Tips for drying your pet quickly and safely after a bath
Posted by YU HUAN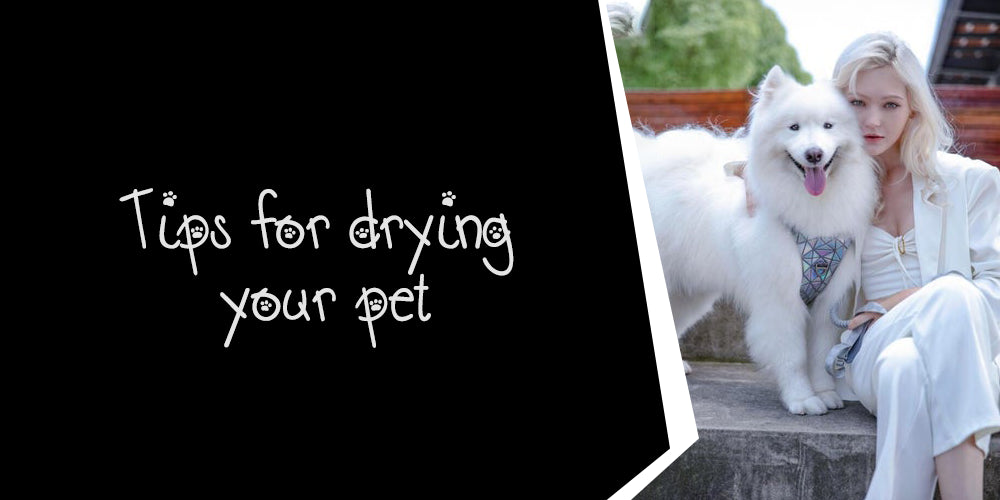 To wind dry or blow-dry? That one question always runs to your mind while drying your lovely pet after giving them a bath. Bathing and drying your pets needs patience and some techniques so that they can dry quickly. There are various methods available in the market like instant blow drying, but that can harm their skin and lead to severe skin diseases. So, follow the below points to dry your pet after a bath, and let your pet smile even after a cold bath. 
Techniques for drying your pets 
Drying your pet requires maintenance and well-handled techniques that dry every corner of their fur and give their coat a smooth and shiny look . Some may use air dry, or some use blow-dry for their pets. It highly depends upon the length of their fur and how sensitive they are to the particular drying method. 
1) Wind Dry

Your pet may want some natural practice to dry their fur after the bath. If your pet has a short and thin layer of hair coat, wind dry will suit their skin. However, air dry is desirable for pets with thin layers of fur. Besides, letting your pet dry on their own develops a healthy pet habit. 
2) Blow Dry 
After a good shower, your pet will need a good drying session which includes drying and moisturizing their skin from deep ends. The blow-dry technique is highly recommended for pets with thick haircoats who need time to dry their skin. However, you will need a good pet grooming blow dryer for drying your pets that safely blows dry their skin. When using the blow-dry to the pets, make sure to maintain proper distance and not place the dryer nozzle straight into their face. While using the dryer, make sure to set the heating level of the dryer on medium to ensure it does not wither their skin wholly. 
3) Use the old method with the towel
Like humans, your pet can also towel dry after the bath. Though, before showering your pet, make sure to be ready with 2-3 towels for your pet. If your pet has a fluffy hairy coat, remove the excess water from the skin and gently massage from head to toe for better drying. The effortless way to dry the pet is to start by wiping the face with a soft towel and then rubbing the middle body from the same towel. You may use different towels for different body parts for better hygiene and protection. 
4) Complete their look with the slicker brush


A slicker brush helps detangle the hair and provides a messy-free look after the shower to complete your pet's grooming. At Pawoof, we have a 2 in 1 pet hair dryer that comes with the slicker brush that helps brushing the long furry pets while drying their skin gently. It is ideal for puppies and pets, which take a longer time to dry their skin and struggle with tangled hair strands. 
Give gentle care to your pets 
Taking care of the pets requires extreme effort and time. However, the tips shared above may help you the next time you dry your pet. No matter what method you may apply to dry your pet, just make sure to be gentle with them to get desired results. To get all kinds of pet supplies online -  visit and explore Pawoof for premium pet products.