Hot
New
In stock
Pre-order
Out stock
PAWOOF® Cat Collective Design Water Fountain 1.5L Big Capacity(yellow)
Feel free to try it for 24 months. Don't like it? We'll pick it up for free and give you a full refund. 2 Year Warranty Guaranteed
Shipment From Los Angeles, USA

【Fountain Size】: 8.3 x 8.3 x 7.5 inches
【Water Capacity】: 50 Oz (1.5 L)
【Fountain Weight】: 1.2 pounds
【Tube Height】: 3.9 inches
【Cord Length】: The cord is approximately 47 inches. You can extend it with a USB cable extension.
【Most Sophisticated Filtration System】
Compared to other types of thin round cotton pads with a bit of activated carbon, Pawoof® pet drinking fountain has a sophisticated water filtration system certified by the world's largest Lab-SGS. The filter consists of high-quality coconut shell activated carbon, silver ions formula, Eurolite ion exchange resin, and high absorption capacity of multiple pore mineral stone balls through extensive research. The testing result shows that almost 99% of bacteria disappear after these five filtrations around the system filter aim to avoid water pollution when water circulates.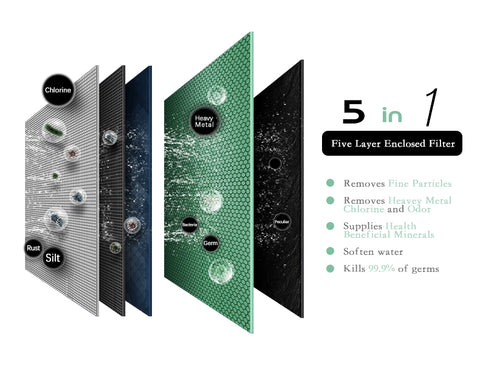 【Huge Volume and Enclosed Design】
After several years design and optimize for home decoration. The 1.5L capacity ensures your pets drink enough water. The filter is an enclosed design, 100% guaranteed every drop of water is thoroughly filtered. The small flow encourages cats to drink more.

【Additional Pre-filter Sponge】
It provides healthier, fresher, free of foul odors, oxygen-enriched, and better-tasting water for your cats. Pre-filter sponge removes large particles, hair, sediment, and other debris while extending the pump's lifespan.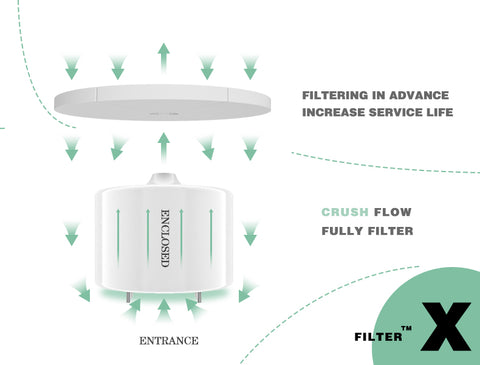 【Safe & Durable Material】
All our materials are environmentally friendly and must pass strict BPA certification to ensure the cat's health.

【Multi Drinking Modes】
Two different drinking modes meet all needs of the various pets. Gentle water flow motivates pets to drink more water. It softens the tap water to remove impurities, which could lead to urinary tract infections.
 
【Visible Water Level】
Visible full transparency water tank, you can quickly know when to clean and refill water.
 
【Extremely Silent Operation】
A small energy-efficient pump makes noise barely, extremely quiet, and gives you and your pets 100% sweet sleep.
 
【Little Maintenance】
Hygienic and dishwasher safe. Little maintenance is required.
Adorable designs decorate your room. Ideal for all sorts of small pets when their owner is on a short trip.