Hot
New
In stock
Pre-order
Out stock
360° smart cat water fountain with control button and high performance long-lasting filter
 Shipment From Los Angeles, USA

【Fountain Size】:
11.4 x 11.4 x 7.8 inches
【Water Capacity】:
77.8 Oz (2.3 L)
【Fountain Weight】:
4.18 pounds
【Cord Length】:
The cord is approximately 100 inches.
【 most sophisticated filtration system】
Compared with the conventional thin round cotton pad with a little bit of activated carbon, this cat water fountain has a sophisticated water filtration system. It is certified by the world's largest lab, SGS. The filter consists of high-quality coconut shell activated carbon, silver ions formula, Purolite ion exchange resin, and high absorption capacity multiple pore mineral stone balls. The testing result proves that such a water filtering system kills bacteria by 99.99%. It stops from growing mold.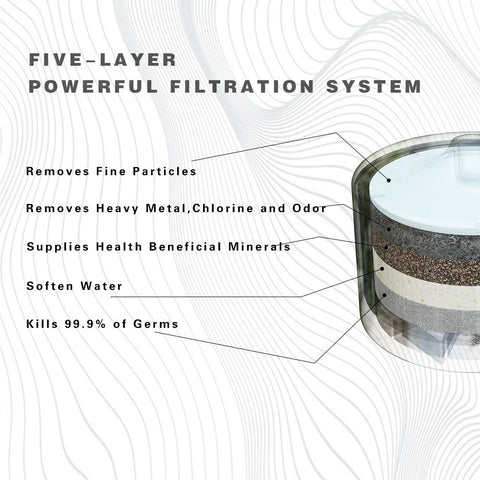 【huge volume and enclosed design】
The filter is an enclosed design, making sure every drop of water is thoroughly filtered.
It provides healthier, fresher, free of foul odors, oxygen-enriched, and better-tasting water for your pets.
【additional pre-filter sponge】
Pre-filter sponge removes large particles, hair, sediment, and other debris while extending the pump's lifespan.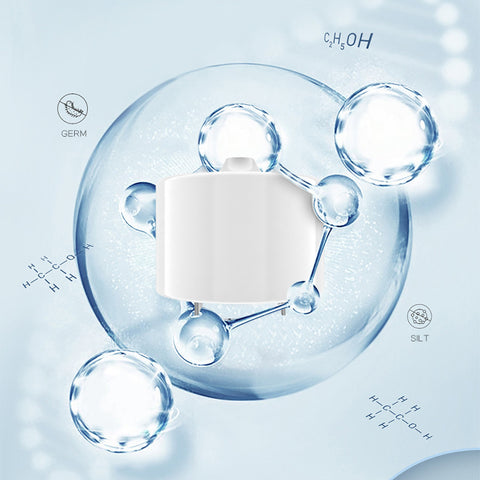 【safe material】
Non-toxic food-grade material, BPA free
【larger capacity】
2.3L water capacity is ideal for pets small to Medium-sized Pets.
【intelligent light and pump】
The gentle adjustable light is not only a stylish decoration for your room but smart to remind you to refill water or replace the filter. When the water level is low, the light turns red, and the intelligent pump shuts off automatically. It prevents the pump from running dry. After the filter uses for two months, the light also turns red even if the water level is enough to remind you to replace the filter.
【adjustable light to meet different needs】
With a press button, you can turn off the fountain when you do not want to keep it running. The gentle light from the translucent center shade is appealing to your pets. It offers 3 level brightness options (Low, Medium, High). Press the button to adjust the lighting to meet your different needs. Nightlight for a steady sleep or nursing. Accent lighting for warm mood. Proper high comfortable brightness for studying or working. Super handy to operate.
【extremely quiet】
A small energy-efficient pump makes barely noise, extremely quiet, gives you and your pets 100% sweet sleep.
【little maintenance】
Little maintenance is required. Easily open it by just turning the crystal-clear cover, convenient for cleaning.